October 2018
- by Alyson Shane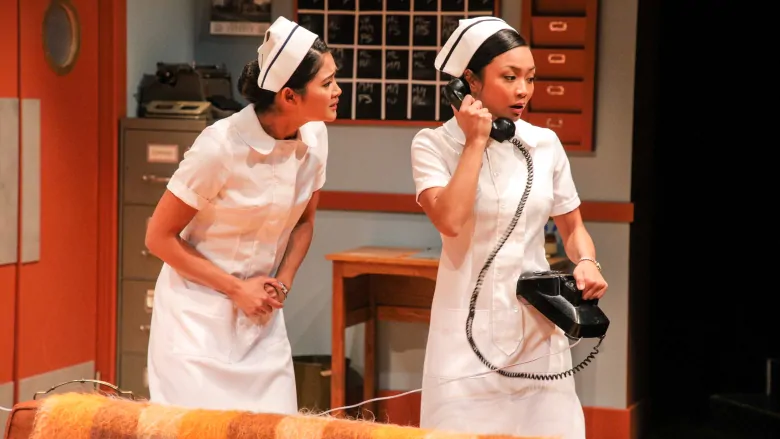 (Photo via Leif Norman)
It's a weird, funny screwball comedy and if you're looking to have an excuse to forget all the weird, messed-up stuff happening in the world right now and have a couple of good belly laughs, then this is the play for you.

I typically try not to do any preliminary research before going to a play at the PTE so I can go in without any expectations, and to date I continue to be pleasantly surprised by the quality of the plays, storytelling, and acting brought to life onstage each season.
The first thing that stood out to me when we sat down for Prairie Nurse was the set: usually plays at the Prairie Theatre Exchange (in my experience, anyway) tend to have more stripped-down sets, and rely on the audience's imagination to fill in the blanks.
Not that I'm complaining, mind you. I enjoyed the set a lot; in particular the lockers and the Formica table set gave everything a weird, home-y feeling. Even though the set was intended to represent the hospital staff room, it did a great job of conveying that this was the space were the characters "lived" when not working in the hospital. I loved it.
The play starts with several of the staff at a hospital in rural Saskatchewan anxiously awaiting the arrival of two new nurses who are moving to Canada from The Philippines.
The plot felt especially pertinent given than Winnipeg is home to one of the largest and most established Filipino populations in Canada, but even though the play tackles a lot of quirks and assumptions that can occur when different cultures clash for the first time, the play does a great job of speaking to anyone who has ever felt misunderstood, or out of place.
The plot of the play follows Puring (short for Purificacion) and Penny (for Indepencia), two women from the Philippines who come to a small-town Saskatchewan hospital to work as nurses during the 1960s.
The recurring problem that the hospital staff have, and what ultimately proves to be one of the major plot devices as well as one of the primary recurring jokes, can't tell the two nurses apart.
Of course, this inability by the hospital staff to tell the new nurses apart results in a variety of silly hijinks
(side note: so happy to finally have an excuse to use the word 'hijinks' in a written sentence on my blog)
which are only enhanced by the slapstick-style action of people entering through one door while someone exits another, jokes about how cold Canada is (of course), mispronunciations, and a variety of other jokes that I won't go into here for fear of spoilers.
One thing that stood out was how quietly the play addressed different, more subtle forms of racism. For example the hospital staff have a hard time telling the conservative and shy Puring, who comes from a rural community, apart from the outgoing Penny, who hails from Manila and has a decidedly more... shall we say, entitled personality.
One of the best characters was actually a supporting one: Dr. McGreggor, a Scottish doctor so obsessed with hunting and fishing that he'd pretty much rather be anywhere else than in the hospital delivering babies and tending to patients.
Overall Prairie Nurse was a charming and touching story not just of overcoming cultural differences, but also of the very human experience of trying to fit into a new place, and or trying to adapt to a changing one.
Prairie Nurse was a really lovely way to kickoff the 2018/2019 play season. I'm excited to see what the Prairie Theatre Exchange does next!
---
- by Alyson Shane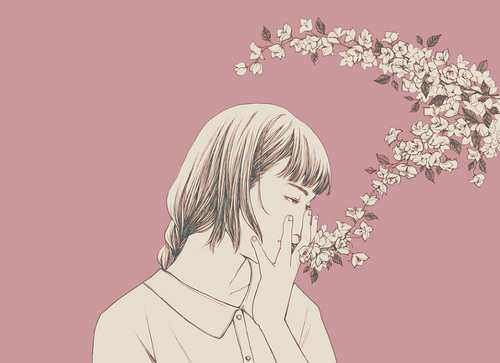 I don't know but whatever it is, it's been a weird few weeks and it's not just me. Everyone seems to be going through one thing or another.
There's a weird crackle in the air, bad juju, bad luck, weird happenstance, odd off-putting stuff going on it seems. A conflict. A misunderstanding. Health issues. Mental problems.
Everything feels fucked in one way or another and it's hard not to let it eat at you. Wear you down. Make you feel like what's the fucking point
of anything at all.
Between politics and the planet and interpersonal bullshit I swear every person I know is struggling somehow and I'm not sure if this is what adulthood is supposed to be like
or if this is just the new normal we all get to deal with
or if this is just how we get to feel if we take the time to be a #wokebae in today's messed-up, backwards-slipping world
but whatever it is, it sucks.
And I'm ready for a break.
But being a #wokebae (which is a joke, you guys) is realizing that - goddamn it - if nobody gives a meaningful shit then nothing will get better.
So you wake up and swallow yr feelings and slap a smile on yr face and pretend like, yeah everything's great I'm just overwhelmed because a major world power just elected a guy who committed sexual assault to the highest court in the land
and yeah the president of that same country made fun of victims of sexual assault and people thought that was OK
and the planet continues to be fucked and we're making it worse and what am I supposed to tell my future child about how we messed the planet up for them
and yeah people in this city can't vote "yes" on what should be an easy "yes" and essentially a non-issue
and people continue to be the versions of themselves that they are instead of the ones you wish they were
and all the other ways I and so many other people around me have felt like we're failing ourselves, or others, or both. And pretend like
yeah it's fine.
But it's not fucking fine, is it?
(Tell me it isn't.)
---