Tagged: in my community
- by Alyson Shane
I'm not going to lie to you: I had some reservations about seeing this play (for those of you that don't know, I've been no-contact (NC) with my parents since February of 2015.)
As a result, the idea of seeing a play about motherhood - something that I have yet to experience, and have thus far only really had negative experiences with - gave me some anxiety. I wasn't sure if I wanted to see the play because I worried that listening to stories of motherhood - of love, of unconditional caring and support - would hurt too much.
However, I also realized that it would be a good opportunity to face a fear (and support the Prairie Theatre Exchange*, which I'm always happy to do), so off we went to check out Mom's the Word.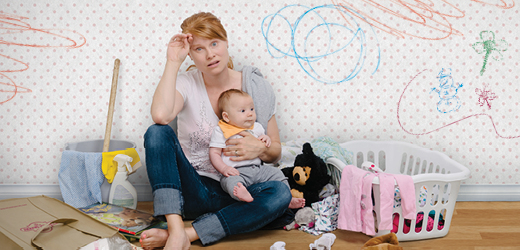 Image via PTE
A play by moms, for moms
Mom's the Word was conceived by a group of actresses and moms living in Victoria, BC in 1995, who all came together to share their stories of the trials and tribulations of motherhood. Together, they pooled their experiences and stories to form a cabaret-style, musical-ish play of sorts which touches on a variety of issues, including: postpartum depression, diapers (and diaper bags), panic, discipline, sex, changing bodies, and much more.
The play opened with a monologue from Jill (played by Yumi Ogawa) about childbirth which was... terrifying, to say the least. I've never had children, but I hope to someday, and seeing such a raw performance of the anxiety, stress, and sheer animalistic power of birthing was a bit unnerving. But, at the same time, it felt oddly inclusive; like this was a trial that every mother goes through, and an experience that is uniquely female.
One of the other mothers, Robin (played by Lisa C. Ravensbergen), gave a hilarious monologue in which she described how she and her equally foul-mouthed partner accidentally taught their child to swear at an early age.
"I tell people he's just saying 'truck' and can't pronounce it properly" she laughs, looking exasperated and embarrassed. This hit home: both John and I include "colourful words" in our everyday vocabulary, and have no shame about it, but the outside perception that we may teach our kids "bad words" too soon in their lives, and be judged for it, is something I've thought about. It felt like such a relief to hear someone addressing it!

Women supporting women
The thing that I loved the most about Mom's the Word, though, was the focus on empowerment through storytelling. Motherhood (from what I can tell) seems like it can be a tremendously isolating experience at times, and it was encouraging to see the moms in the story reaching out and supporting one another.
These struggles were covered really well in the monologues delivered by Jill's character. Over the course of the play she narrates 'letters' to her husband, trying to explain and make sense of the different experiences they're both having (staying at home with the kids vs. maintaining a demanding career) which were, at times, utterly heartbreaking.
"How can I explain what my day was like to you?" she asks "most of my day is spent in silence; how can I put the look our baby and I shared into words?" As John, who came with me, gripped my hand I realized that these were going to be very real issues that I would one day have to face and make sense of, myself.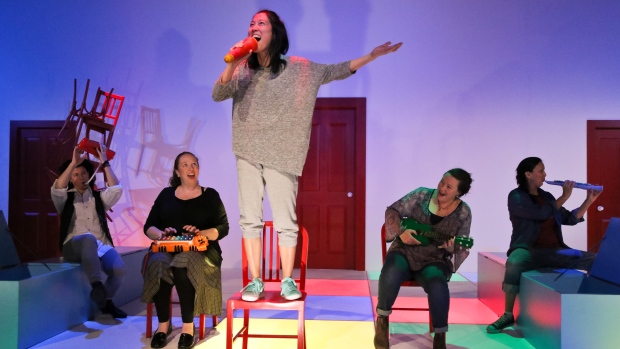 Image via CBC Manitoba

Laughter as medicine
The play wasn't all sad monologues and stressing out about dirty diapers; in fact, Mom's the Word presented the topic of motherhood in unabashed, shameless, hilarity.
In one scene, Alison (played by Trish Cooper) walks onstage jiggling a carrier as she tries to lull her infant (who was born prematurely) to sleep. Her baby falls asleep, but her muscle memory causes her to keep jiggling for several minutes as she addresses the audience. In another, Deborah (played by Jenny Wasko-Paterson) struggles through oral sex (taking bites of a banana onstage) as she says things like:
"I still want you to feel good"
"Oh no, I don't mind. I feel sexy when you feel sexy..." *eye roll*
This monologue is clearly demonstrating the struggles that many moms have with reconciling how tired, worn-out, and unsexy they feel, and the struggle to maintain a sexual relationship with their male counterparts who aren't feeling the same strain. Again, this is an area that worries me as a potential future-mom, and I appreciated that it was addressed and normalized within the context of the play.
The stand out scene for me, however, was one in which Deborah's character took her young son to the local pool. Her interactions with the toddler-age child, the fumbling, the mess, and the hilarious antics which ensued reminded me so much of being a young person, and spending my summers in the daycare my mom ran out of our house, which was always filled with toddlers exhibiting the exact behaviours described in the play.
As someone who doesn't yet have children and has a lot of mom-related baggage, Mom's the Word struck a series of chords that I didn't realize where inside of me. Yes, it was hard to watch some points, but the actors put words to many of the fears and anxieties that I have about motherhood, and presented difficult and stressful scenarios as ones which felt relatable, even to a non-mom like me.
Mom's the Word reassured me that, even if the world of parenting is going to be 'trucking' hard sometimes, at least I'll be able to laugh about it.

----
Mom's the Word is currently playing at PTE until November 27, 2016.

* Disclaimer: I get free tickets to see plays at the PTE in exchange for writing these reviews (it's wonderful)

---
- by Alyson Shane
Earlier today I had the pleasure of speaking to students in their first year of the Red River College's Creative Communications program (aka #CreComm) about the state of social media, blogging, and the future of digital communication with my longtime internet pal Liz Hover.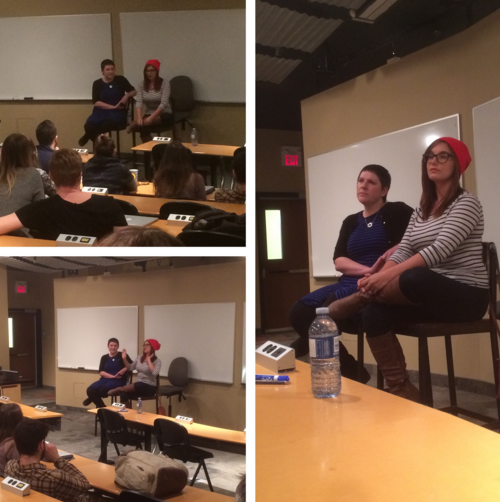 (Really digging my Neil DeGrase Tyson hands in the bottom left, by the way)
This is actually my fifth year returning to speak to students in the program (my first time was in 2011 - how time flies!) and every year it gets better; not just because I get to see new faces and have brand new discussions, but because as my life has changed I've become better suited to be able to speak on these topics, going from a university student, to a university graduate, to being employed full-time and finally to running a business where I literally blog and do social media all day.
As usual, we didn't have enough time to cover everything that I wanted to speak about, so I wanted to cover a few topics that didn't really wrap up during my time with the students today.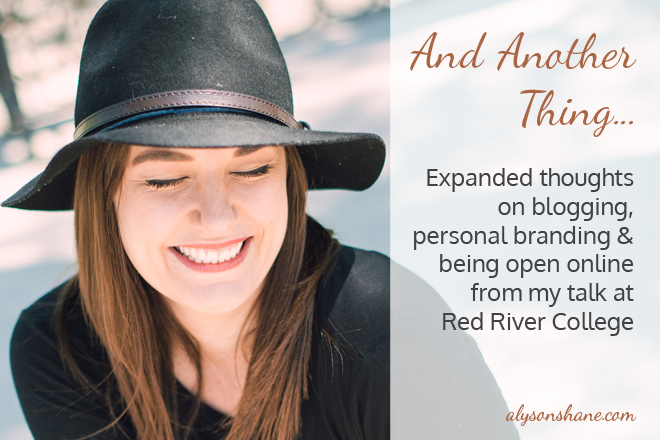 Merging My Personal Brand & Business
I started off as a lifestyle blogger in 2003, back on LiveJournal, and spent a number of years blogging rather aimlessly and not with a lot of purpose. I blogged frequently, sure, but it was usually just about what I'd done on the weekend, or a video I liked, or whatever.
What I had at the time was a strong personal brand, but as I started to think more critically about my craft I wanted to write about my weekends less and less, and about social media, content marketing, and being a business owner more and more.
Blogging for my business gives my blog a sense of purpose, and has provided me with a theme to tie together a lot of topics and ideas which would have seemed weird to write about as a lifestyle blogger.
During our talk Liz turned to me and said "I like your blog now; you seem a lot more happy and positive" and that's because I am. My lifestyle blog chronicled a time in my life where I was largely unhappy and trying to figure myself out, and as I've grown, learned, and gained happiness and confidence as a result of running my business it's translated into what I write here on my blog.
It's totally okay (and normal, and expected) that your blog will change and grow as you do over time - that's okay! We're in a constant state of self-discovery, and our blogs and websites should be a reflection of that.
On Having Anxiety & Being Open About It
One of the things that we touched on in the class, and which several students asked me about afterward, was how I dealt with being an anxious person, and what led me to decide to share some of my personal struggles with my audience when some of them could be potential clients.
I first wrote publicly about my issues with anxiety for Bell Lets Talk Day in 2015. The post is called Living With the Mean Reds and it was one of the most popular posts I've ever written. Since then I've blogged about my progress, which apps I've used to help manage it, and even written about my falling-out with my family, and creating a family of choice to move forward in positive and constructive ways.
None of it is easy to write about, and one of my other family members cautioned me that writing about this side of my life may actually alienate potential employers or clients. My response to that is: if having anxiety or issues with my family stops someone from wanting to work with me, then we wouldn't have been a great fit anyway.
I'm going to do what I want and the kinds of people who respect and appreciate what I have to say will find me and want to work with me. It's worked out great so far.

Besides that, as our digital world becomes less and less private, the onus is on us as individuals to take the time to craft the narratives we want about ourselves online. Sure, you can't control what other people say (remember The Dirty? Omg) but going out of your way to craft your own narrative is an important part of creating your personal brand because even though we like to paint pretty pictures of ourselves online we all know deep down that there are hard times and dark days, and part of being an authentic and relatable human being is being honest with yourself and your audience about your struggles, even if that's challenging sometimes.
What If Blogging Isn't Your Thing?
Creative Communications students have to blog as part of their curriculum, and during our talk we touched on the fact that - let's face it - blogging may not be for everybody. Which I agree with; writing isn't easy for some people.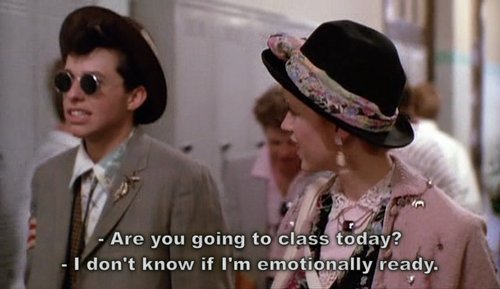 However, I do think that it's important that young people who are entering job markets which require them to be creative (eg: digital marketing, advertising, public relations, etc) should make a point to find a way to express themselves creatively online in a way that they can point to in an interview and say "this is mine."
Blogs also don't have to last forever. My good friend Luke is running year24.com a blog about (you guessed it) his 24th year. This project is on the easy side because he set the parameters himself, and there's a concrete start and end date. What matters is that he made a decision to do something creative and challenging, and was successful in doing so.
But maybe you really hate blogging for yourself, and the idea of holding a camera not attached to your iPhone scares the living daylights out of you. What can you do?
There are a variety of things: start a killer Instagram account about your pet like Liz did; reach out to publications online and start writing for them (one of the very first places I was published online was The Spill Magazine, for example); start interviewing local business owners that you admire and compile them on a website; create and grow a killer Pinterest community; you get the drift.
What matters is that you demonstrate that you're constantly learning, looking for new challenges and opportunities, and can present what you know in a fun and accessible way. The sky is really the limit!
Want More?
Do you have questions about blogging, social media, or how the heck I got to where I am?
Are you a teacher interested in having me visit your class to speak about blogging, social media and digital marketing to your students?
Drop me a line! I'm always happy to have a quick email exchange, a lunchtime chat, or even an after-hours pint at the Yellow Dog. Looking forward to hearing from you!
*As always, thanks to Kenton Larson at Red River College for having me!
---
- by Alyson Shane
The most important stories are the ones which make us uncomfortable. The ones which force us to take a long, hard look at ourselves in the mirror and ask "what would I do? How would I react?" and then grapple with the response.
Butcher, a play by Canadian playwright Nicolas Billon, which is currently showing at the Prairie Theatre Exchange, is an example of modern storytelling which forces that kind of brutal, disturbing introspection.
Full disclosure: I was offered these tickets by the PTE in exchange for writing this article. I want to point that out because I want to be honest with you guys about when I get something for free, and also because I want to point out that what I'm about to say was in no way influenced by their offer. I was blown away by this play, and can't say enough good things about it.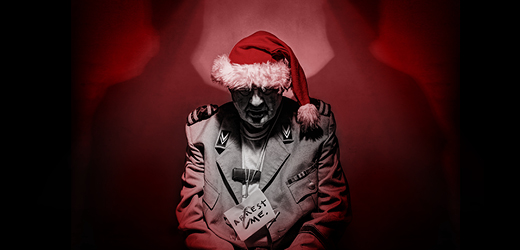 A brief overview

Butcher is a play which starts with an old man who shows up at a police station wearing a military uniform, a Santa hat, and a meat hook draped around his neck. He doesn't speak English, but he's got a lawyer's business card stuck onto the meat hook with the words ARREST ME written on it.
Then, a series of scenes begin to unfold inside a single room between a detective, a translator, the lawyer, and the old man, which explore ideas around justice, vengeance, genocide, and forgiveness.
The play is full of twists and turns, and many times I found myself gripping my seat in anticipation. I don't think a play has ever moved me, or made my heart pound as hard in fear, as Butcher.
What makes it good?
I know I just said I wasn't going to spoil anything, but this one is necessary to actually review the play: the old man turns out to be "the Butcher, " a war criminal who ran a concentration camp during a civil war in the fictional country of Lavinia. The Butcher is wanted by two groups: Interpol, and a group of rebel survivors called The Fjurioji, or the Furies.
Butcher is comprised of a series of conversations about the brutalities of war, the kinds of inhumane things that humans can do to one another, and the cycle of violence that is continually perpetuated by hatred and revenge. It explores these ideas so deeply, and in such a visceral and compelling way that I found myself moved to tears or squirming in my seat on several occasions.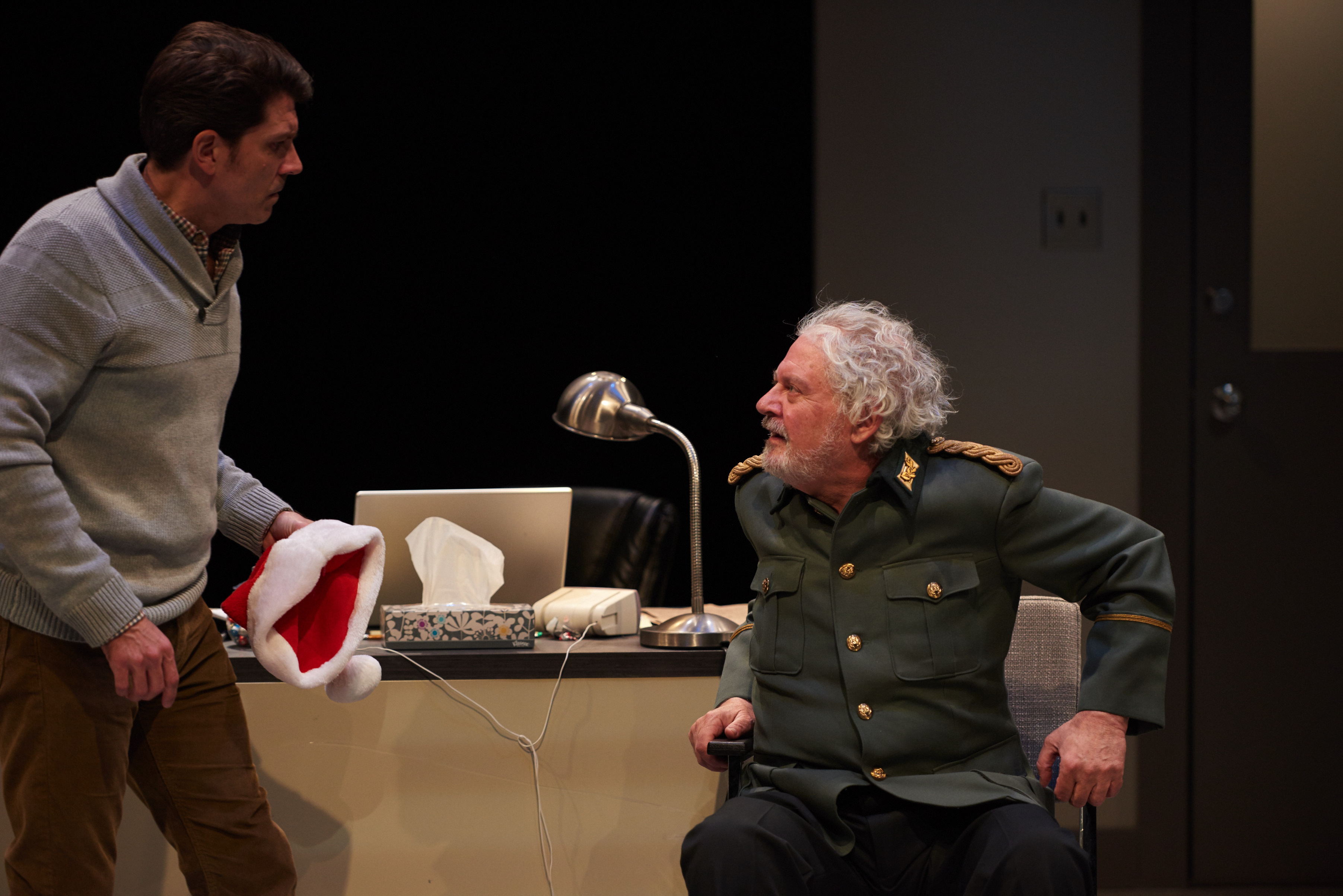 One example is when the old man is forced to confess his worst war crime. Most of what his character says is translated through the other characters, but in this case, as he describes his horrific, brutal actions, the audience can only rely on the reactions of other characters to interpret the severity and brutality of his actions.
This scene, where the audience was left to imagine the atrocities committed by a war criminal, was just one of many where I found myself cringing and feeling uncomfortable. It also served to illustrate how far-removed most Canadians are from the atrocities of war: even when someone is spelling them out for us, we still can't manage to comprehend what those experiences are like. It's like they're speaking another language.

Moving & thought-provoking
Lately it's hard not to feel like the whole world has become engulfed by fear and anger. From the recent Paris attacks, to the deplorable comments being shared across social media about Muslims and the Syrian refugees, it's terrifying to see how easily fear can enter our hearts, and stay there.
Butcher shows us how easily we can become consumed by our lust for revenge, and how even the most innocent among us can become twisted, mutated versions of ourselves when subjected to enough horrors and traumatic experiences. That when we treat others with hatred and fear, those people become permanently damaged or broken by it, and can only turn to more violence and hatred to try and fill the hole that our actions carved in them.
This idea, that the cycle of violence is a self-perpetuating process than can only be halted with deliberate kindness and forgiveness, was a powerful message which, I think, couldn't be more relevant to current global issues. Fear and division are powerful manipulative tools, and we have a responsibility to try and act better than the people who have mistreated us, or acted with hatred in their hearts.
With that in mind, I highly recommend that everyone check out Butcher while they can (it's running at the PTE until December 6, 2015). You won't be disappointed.
**I'd like to thank the Prairie Theatre Exchange once more for providing me with tickets to see this outstanding play. I was moved and humbled by Butcher, and can't recommend it enough.
---