I've never been good with free time
It's like if I have an abundance of it I get overwhelmed with the possibilities. Or I feel guilty for having free time at all since there's always business stuff I could be doing instead of stuff I enjoy, including:
- Playing video games
- Reading a book
- Writing for this blog
- Writing for myself
- Writing for the Starling blog
- Taking a bath
- Finishing Wormwood
- Taking a bath and finishing Wormwood
- Making snacks
you get my point. The possibilities are basically endless.
Usually when this happens I try to get out of the house and go for a walk somewhere, which doesn't always work during this time of year since I live somewhere where the air can freeze your skin in a matter of minutes.
When I lived in Hamilton I used to go for a lot of walks because you could go outside and only be moderately uncomfortable during the winter. This worked out well because the guy I was living with often worked weekends, which meant I had a lot of time to myself.
I lived at the bottom of The Escarpment (which is basically a cliff that keeps going after the drop) in what I presumed at the time to be a pretty dumpy area because a bunch of the neighbours in our U-shaped apartment building would get together and drink in the parking lot in the middle all day.

(Nothing says "good morning!" like country music blaring from a semi truck at 9AM on a Tuesday.)
There was a park nearby that nobody used, and a set of train tracks with a spooky-looking underpass that always gave me the heebie-jeebies.
I always remember it looking like the underpass Michael Caine is too scared to take at the start of Harry Brown:

But if I sucked it up and walked through the underpass and down a bunch of streets with mostly buildings and parking lots on them I'd eventually wind up on King St E which I loved because of the weird mish-mash of stores and shops.
Record stores and lounges and boutique clothing stores. Coffee shops and places that sell stripper shoes. Hair salons for every ethnic background. A specialty foods store (my favourite) that felt like a cool, secret little grotto where you had to duck underneath stuff hanging from the ceiling.
But I had to pass through this scary af underpass reminiscent of where the clown from IT came after young people in order to get there.
I'm trying to find it on Google Maps but I'm having a really hard time remembering where things are in this city.
I forgot my address a long time ago, and I haven't been back to Hamilton since I lived there. Once you've been to a few Ontario cities they all start to blend together:
red brick houses with large, stout porches
pools in everyone's backyards
roundabouts
hills
(I always forget how flat Manitoba is until I'm in Ontario.)
Oh my god I found it.
LOOK: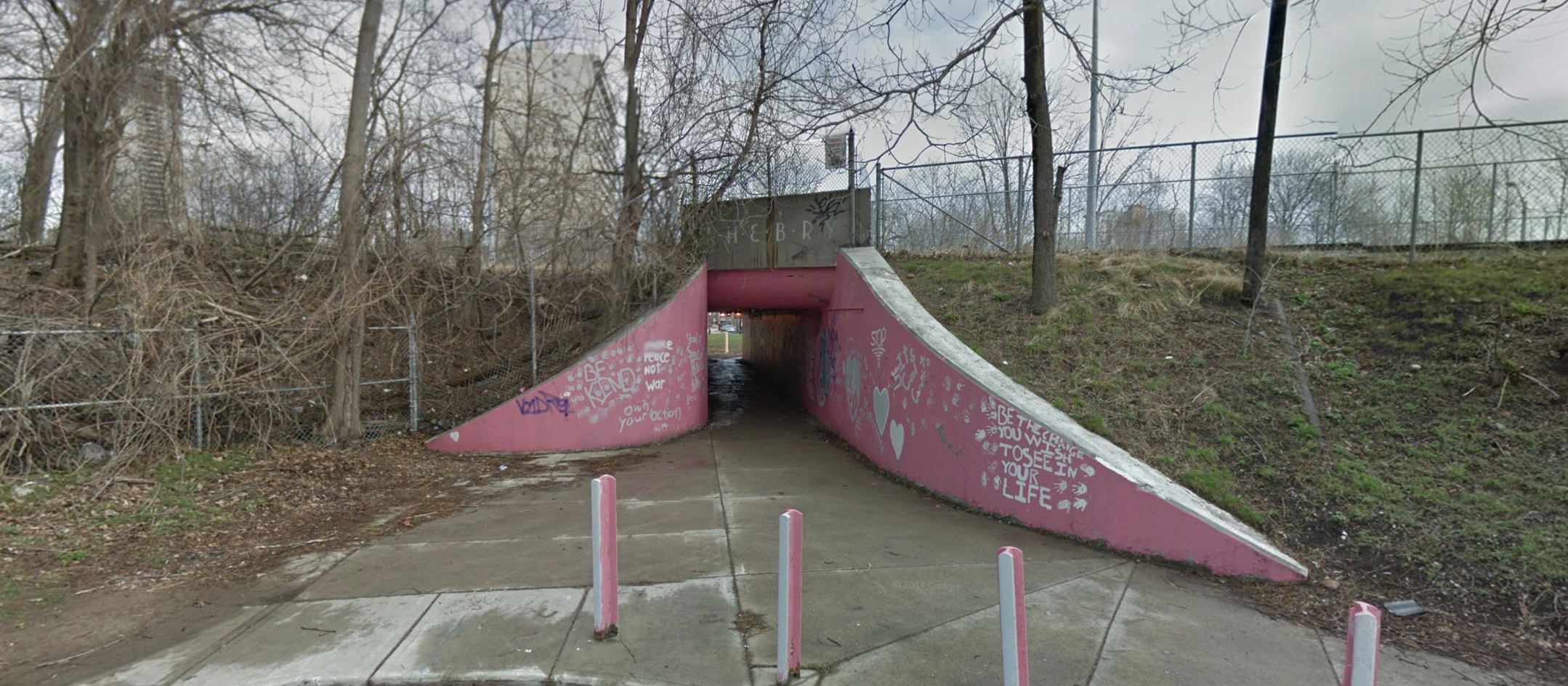 It's basically as creepy as I remember except now it's pink and has positive affirmations spray-painted on it, which is great because GIRL POWER but also at the same time
I'm not sure there's much anyone can do to tszuj up a scary underpass, to be honest.
---