Seven years ago I changed my life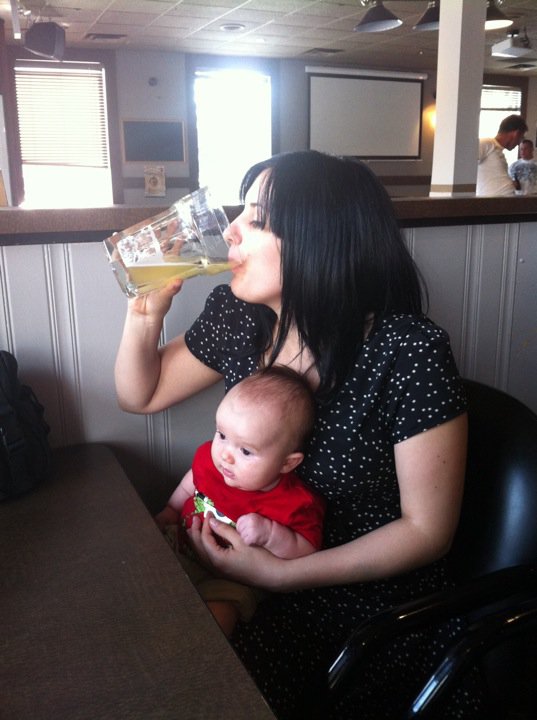 (me, a few days after changing my life)
which is a weird thing to say, when you think about it. There aren't a ton of opportunities for us to point back at and say "that was a thing I did that fundamentally changed my life forever," but I'm lucky enough to have accumulated a few by this point.
One of those times was seven years ago when I got my breast reduction.
Which means my breast reduction is old enough to be in the 1st grade.
That's weird.
You know what's also weird? Going for elective surgery, which was also free because I live in Canada and my huge boobs were causing me a lot of mental and physical strain
(I still have back problems and am very careful about my posture)
is super, duper weird.
Because we always think of going for surgery as this big, scary thing. Usually if we're going for surgery there's something wrong with us. We have cancer. We had a heart attack. We fell off our bike and our Fibula is sticking out of our leg.
Gross, awful, not-pleasant times.
But going for elective surgery is FUN. You get to have something done to yr body that's going to enhance your life experience, and you get to get loopy on some crazy drugs in a safe, controlled environment. It's actually a pretty sweet deal assuming everything goes according to plan, which in my case it did and I'm forever thankful for it.
After it was over and I was finally able to walk to and from the bathroom and pee by myself (which the metric they use to determine if you're okay to go home, I guess) I went home, and the guy I was seeing at the time (bless his heart) got me a bunch of Double Cheeseburgers from McDonalds and I lay on the couch in our living room in a Fentanyl-induced haze slowly mowing down DCB after DCB.
It was so gross and glorious at the same time.
And then just like that my life changed.
Over the years I'd become accustomed to just being a pair of tits because that's how most people treated me. Strangers would comment on the size of my chest. Other women would ask probing questions like
"omg, what cup size do you wear?"
(38HH most of the time, but nothing really fit properly)
"you must get SO much attention from guys!"
(Yes, I did. A lot. It sucked. Being objectified is even worse when it's about a part of your body that you don't like.)
"don't those things make your back hurt?"
(Yes, they did. I still have back and neck problems, and am very careful about my posture because I used to slouch my shoulders pretty badly because of the weight.)
Calling them "those things" always felt appropriate though, since I guess that's actually how I felt about them. Like they were these things attached to the rest of me that I didn't identify with, or want. They didn't make me feel the way women are told our breasts are supposed to make us feel: empowered, beautiful, and feminine.
And to be honest for a long time I still didn't think that way.
I don't think I've really become comfortable with myself and my body until the last few years or so, so it's not like I can point at my breast reduction and say
omg my breast reduction completely changed my life!
because that wouldn't be entirely true. But I can say:
I'm glad I did it because it gave me a sense of control over my body, and that it encouraged me to make more choices that made me feel empowered in the years to come.
It was one step of many

but dang if it wasn't a big step.
R.I.P. old boobs. You won't be missed.
---