April 2016
- by Alyson Shane
Regardless of how much you love what you do, there are inevitably doing to be times when you're feeling down, or uninspired, or are simply suffering from a lack of motivation (I know those feels).
When I'm feeling down I like to find a fun project to work on (like doing some writing, editing photos, etc) and put on a good TED Talk to listen to while I work. I love hearing other people's thoughts and stories, and have actually been using TED Talks to get inspired since 2007, when I worked a mind-numbingly dull job as an accounting assistant in a government office. I hated my job, and listening to people with big ideas, dreams, and goals made me feel a little less crazy for being underwhelmed with my current circumstances.
These days I certainly feel a lot better about what I do day-to-day, there are still times when a little verbal pick-me-up is required to get those creative juices flowing again. With that in mind, I wanted to share some of my favourite talks to help you stay motivated: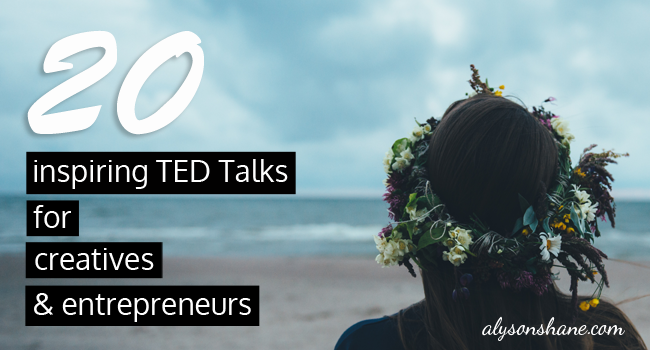 *I also happen to have ASMR, and for those of you lucky enough to experience the same lovely sensations when listening to people speak, I've put a little asterisk next to the ones that give me the best kinds of brain-tingles.
Inspiring Talks
I'm a sucker for a good cheesy talk, and nothing snaps me out of a funk faster than listening to a few talks about dreaming big and going for it. In particular I'd recommend checking out Amanda Palmer's talk; hearing hers was pivotal for me in learning to ask other people for help and admitting that (gulp!) maybe I don't know everything.
Steve Jobs: How to Live Before You Die
Simon Sinek: How Great Leaders Inspire Action
Adam Grant: The Surprising Habits of Original Thinkers
Dan Pink: The Puzzle of Motivation
Amanda Palmer: The Art of Asking
Business & Success Talks
I've been listening to talks about business since... well, long before running my own business ever crossed my mind. In particular I'm drawn to talks that tackle issues like healthy workplaces, finding work that matters to you, and spreading your ideas successfully.
Bill Gross: The Single Biggest Reason Why Startups Succeed
Barry Schwartz: The Way We Think About Work is Broken
Scott Dinsmore: How to Find Work You Love

Seth Godin: How to Get Your Ideas to Spread
Dan Ariely: What Makes Us Feel Good About Our Work?*
Yves Morieux: As Work Gets More Complex, 6 Rules to Simplify*
Creativity & Happiness Talks
Two of the talks in this category are ones I've been listening to for several years. They're always good to come back to when I need a refresher that creativity isn't something that just disappears (though sometimes it feels that way) and that I have to actively work at being happy.
Matthieu Ricard: The Habits of Happiness*

Carol Dweck: The Power of Believing That You Can Improve
Ken Robinson: Do Schools Kill Creativity?*
Dan Gilbert: The Surprising Science of Happiness
Tim Harford: How Frustration Can Make Us More Creative
General Interesting Talks
Below are a few of my favourite talks that didn't really fit into any of the above categories, but I find myself revisiting again and again because they're just that good.
Ole Scheeren: Why Great Architecture Should Tell a Story*
Yanis Varoufakis: Capitalism Will Eat Democracy -- Unless We Speak Up
Yves Morieux: How Too Many Rules at Work Keep You From Getting Things Done*
Dan Gross: Why Gun Violence Can't Be Our New Normal
Do you have any favourite videos that you play to stay motivated and find inspiration? Tweet them at me or tell me in the comments!
---
- by Alyson Shane
Today I did a "big kid" business owner task and complied all of my information to send to my accountant for tax time. It was stressful, a little bit chaotic, but ultimately felt good to be done and over with.
The reason it took me so long (and caused me more than a little anxiety) is because when I started my business a year and a half ago I didn't expect it to scale so quickly, and as a result I kind of floundered through the first few months of it without real systems in place to help me stay organized.
Now, boy do I know better.
Largely what I know has come through trial and error, but I've also had some great discussions with friends, colleagues, and mentors who have helped me figure this stuff out and get on the right track. And, since sharing is caring, I figured I'd share a list of 5 of the most important thins I've learned with you: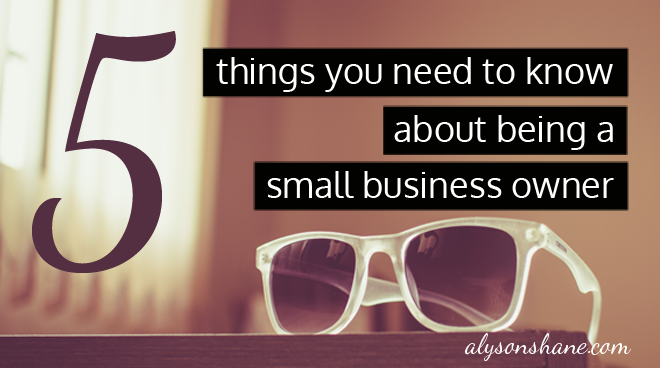 1. Every day is unpredictable
This is probably the biggest understatement of the century! I do my best to be as organized as possible and use checklists and planners, but sometimes a client throws a curveball my way which eats up my entire day.
As a result, I've had to learn to be a lot more flexible. Not just with my time, but with my expectations of what I planned to accomplish during that time. Clients will often send pressing need-to-handle emails moments before they actually need something, or someone will call me while I'm in the middle of writing an in-depth piece, or any variety of things. Whatever the case, be prepared for the unexpected.
2. Developing your systems early on is a lifesaver
Believe me, you'll thank yourself later. Like I mentioned at the top of this post, when I first started freelancing I didn't give much thought to how my folders were organized, where my invoices went, how I tracked my time... you get the drift.
Do as I say, not as I do. Here are some tips to develop strong systems:
Pick a file structure and stick to it. Be consistent in your folders and sub-folders!
Use invoice numbers to keep track of your invoices, and use a spreadsheet to track what's outstanding and what has been paid (I recently started doing this thanks to a conversation with my friend Elise and it's a lifesaver)
Track your time. I use Toggl to keep track of everything I'm doing, and review my logs often to figure out what I'm spending the most amount of time on.
Use the heck out of your calendar.
3. You'll think about work constantly
When you own something and you're trying to build it, it's almost always on your mind, and that's totally okay!
In fact, it's probably the thing that is going to make you successful and keep your business from going under, because if you're always thinking about it, then you're more likely to come up with new ideas, systems to streamline your processes, and ways to hustle your product or services.
I'll be honest: if you're the kind of person who wants punch the clock and then forget about everything you did Monday to Friday, then this isn't the lifestyle for you.
4. You'll always have stuff to do
This can actually feel overwhelming from time to time, because even when I've checked off all of my client "to dos" there's still a long (looooong) laundry list of things that I need to take care of to make sure my business is running smoothly. This could be anything from developing new products, to researching a new social trend, to filling up my content calendar... there's never a dull moment.
There are definitely times when this can feel overwhelming, but that's totally normal! Just take a deep breath, grab a glass of wine (or whiskey), pump some music and push though the first few items on your to-do list. Trust me, once you've checked a few off you will feel a million timed better.
5. You'll feel guilty when you "switch off"
(but do it anyway)
It's important to have rest days and days where your eyes aren't glued to your computer screen, or you don't set foot in your store (if you have a brick-and-mortar business) because - trust me on this - you will burn out, honey. Even if you can't entirely unplug, set aside a few hours of "me time" and take a bath, hit the gym, grab a greasy burger with your besties... whatever you need to do to unwind and recharge your batteries.
When I was on vacation in Central America for three weeks I definitely had bouts of "oh my god, will my business be there when I get back?!" but you know what? Being away from the day-to-day tasks helped me come up with some really terrific ideas, and when I came back I felt 100% refreshed and ready to dive headlong into things. I highly recommend vacations, even short ones, specifically for this purpose.
The truth of the matter is that there are a million other things you "need to know" about running a small business (which I'm sure I'll get around to blogging about at some point!) but what it really boils down to is that it's a crazy, intense, rollercoaster of fun, stress, and good vibes.
All my luck to you in your small biz adventure!
Want more posts like this? Tell me what you'd like me to blog about next on Twitter, via email, or in the comments!
---