In My Community: Mom's the Word at the Prairie Theatre Exchange
I'm not going to lie to you: I had some reservations about seeing this play (for those of you that don't know, I've been no-contact (NC) with my parents since February of 2015.)
As a result, the idea of seeing a play about motherhood - something that I have yet to experience, and have thus far only really had negative experiences with - gave me some anxiety. I wasn't sure if I wanted to see the play because I worried that listening to stories of motherhood - of love, of unconditional caring and support - would hurt too much.
However, I also realized that it would be a good opportunity to face a fear (and support the Prairie Theatre Exchange*, which I'm always happy to do), so off we went to check out Mom's the Word.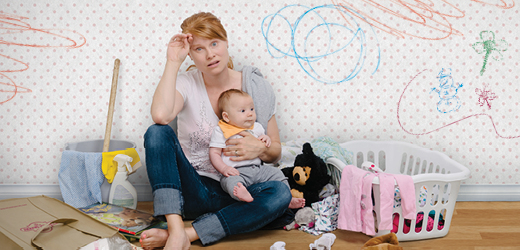 Image via PTE
A play by moms, for moms
Mom's the Word was conceived by a group of actresses and moms living in Victoria, BC in 1995, who all came together to share their stories of the trials and tribulations of motherhood. Together, they pooled their experiences and stories to form a cabaret-style, musical-ish play of sorts which touches on a variety of issues, including: postpartum depression, diapers (and diaper bags), panic, discipline, sex, changing bodies, and much more.
The play opened with a monologue from Jill (played by Yumi Ogawa) about childbirth which was... terrifying, to say the least. I've never had children, but I hope to someday, and seeing such a raw performance of the anxiety, stress, and sheer animalistic power of birthing was a bit unnerving. But, at the same time, it felt oddly inclusive; like this was a trial that every mother goes through, and an experience that is uniquely female.
One of the other mothers, Robin (played by Lisa C. Ravensbergen), gave a hilarious monologue in which she described how she and her equally foul-mouthed partner accidentally taught their child to swear at an early age.
"I tell people he's just saying 'truck' and can't pronounce it properly" she laughs, looking exasperated and embarrassed. This hit home: both John and I include "colourful words" in our everyday vocabulary, and have no shame about it, but the outside perception that we may teach our kids "bad words" too soon in their lives, and be judged for it, is something I've thought about. It felt like such a relief to hear someone addressing it!

Women supporting women
The thing that I loved the most about Mom's the Word, though, was the focus on empowerment through storytelling. Motherhood (from what I can tell) seems like it can be a tremendously isolating experience at times, and it was encouraging to see the moms in the story reaching out and supporting one another.
These struggles were covered really well in the monologues delivered by Jill's character. Over the course of the play she narrates 'letters' to her husband, trying to explain and make sense of the different experiences they're both having (staying at home with the kids vs. maintaining a demanding career) which were, at times, utterly heartbreaking.
"How can I explain what my day was like to you?" she asks "most of my day is spent in silence; how can I put the look our baby and I shared into words?" As John, who came with me, gripped my hand I realized that these were going to be very real issues that I would one day have to face and make sense of, myself.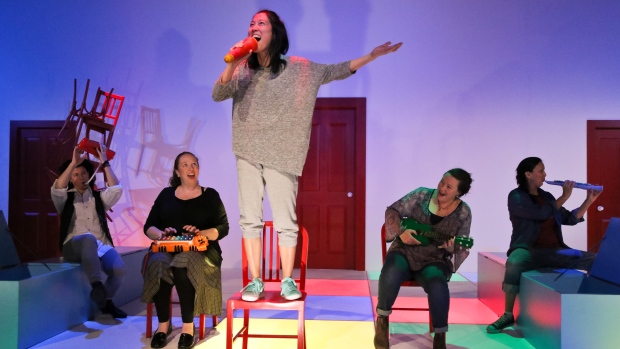 Image via CBC Manitoba

Laughter as medicine
The play wasn't all sad monologues and stressing out about dirty diapers; in fact, Mom's the Word presented the topic of motherhood in unabashed, shameless, hilarity.
In one scene, Alison (played by Trish Cooper) walks onstage jiggling a carrier as she tries to lull her infant (who was born prematurely) to sleep. Her baby falls asleep, but her muscle memory causes her to keep jiggling for several minutes as she addresses the audience. In another, Deborah (played by Jenny Wasko-Paterson) struggles through oral sex (taking bites of a banana onstage) as she says things like:
"I still want you to feel good"
"Oh no, I don't mind. I feel sexy when you feel sexy..." *eye roll*
This monologue is clearly demonstrating the struggles that many moms have with reconciling how tired, worn-out, and unsexy they feel, and the struggle to maintain a sexual relationship with their male counterparts who aren't feeling the same strain. Again, this is an area that worries me as a potential future-mom, and I appreciated that it was addressed and normalized within the context of the play.
The stand out scene for me, however, was one in which Deborah's character took her young son to the local pool. Her interactions with the toddler-age child, the fumbling, the mess, and the hilarious antics which ensued reminded me so much of being a young person, and spending my summers in the daycare my mom ran out of our house, which was always filled with toddlers exhibiting the exact behaviours described in the play.
As someone who doesn't yet have children and has a lot of mom-related baggage, Mom's the Word struck a series of chords that I didn't realize where inside of me. Yes, it was hard to watch some points, but the actors put words to many of the fears and anxieties that I have about motherhood, and presented difficult and stressful scenarios as ones which felt relatable, even to a non-mom like me.
Mom's the Word reassured me that, even if the world of parenting is going to be 'trucking' hard sometimes, at least I'll be able to laugh about it.

----
Mom's the Word is currently playing at PTE until November 27, 2016.

* Disclaimer: I get free tickets to see plays at the PTE in exchange for writing these reviews (it's wonderful)

---