Tagged: Bicycles
- by Alyson Shane
Last night, despite frigid temperatures and hostile winds, John and I trekked out to the Prairie Theatre Exchange to check out the opening night of SPIN, an unusual spoken-word, musical, theatrical oddball of a play featuring a string section, two guitars, a projector, and a bicycle as an instrument.
It was by far the weirdest play I've ever seen, and I totally loved it.
For those of you who don't know me personally, I'm obsessed with riding my bike. I first got into cycling as an adult when the guy I was seeing at the time and I purchased matching his & hers vintage road bikes for $40. They were named Vikki & Vance, and I loved them.
A few years later an unfortunate (car) accident led to me purchasing my current velocipede, Barbara Streisand, whom I now ride all over town the moment the weather allows it. I love cycling; it's an amazingly freeing and fun activity, and there are literally few things that I love more than riding my bike around on a warm day in the sunshine.
So, naturally when I was offered free tickets to see SPIN, a play about cycling, I jumped at the opportunity.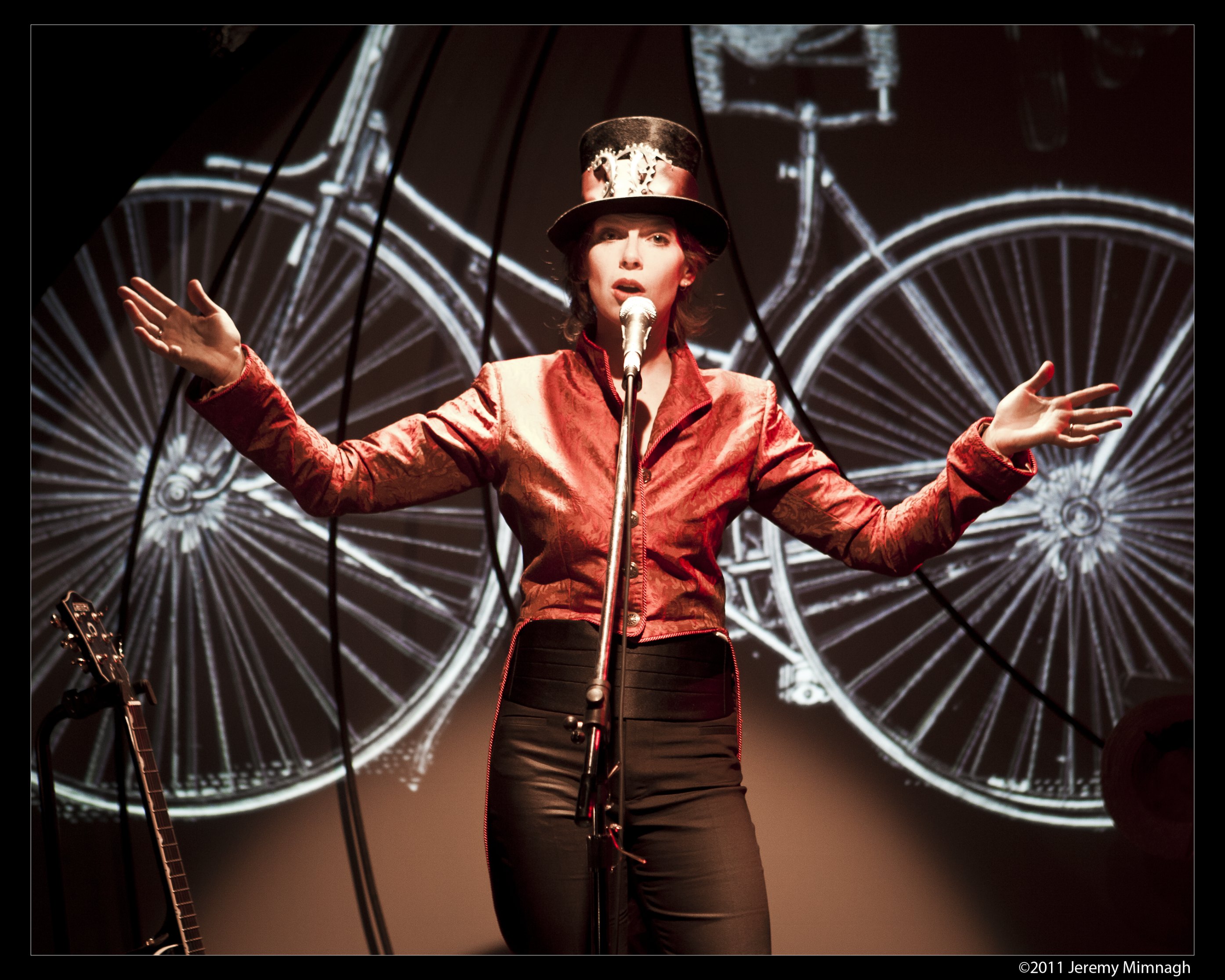 What's so good about a play about the bicycle?
What I didn't know about the bicycle before attending the play was this: the bicycle, in fact, was an important instrument for social change during the women's suffrage movement.
At the opening of the play, which is sort of a mash-up of ballads, catchy songs, and spoken-word pieces, Evalyn Parry emerges and does an impressive recital of Instructions on Learning to Ride a Bicycle, a pamphlet published by Miss Frances Willard, one of the most important suffragettes in history. After learning to ride a bicycle at 51 years old, she was so taken with this efficient mode of self-transportation that she wrote a pamphlet about it, declaring that "all women must all learn to ride, or fall into the sluiceways of oblivion and despair."
Wow. It definitely puts getting on my bike and rollin' around town feel a little less frivolous.
Not only are the stories that Parry weaves together hilarious, fascinating, and inspiring, but her vocals and guitar are backed up by... you guessed it, a bike. Brad Hart, Parry's accompanist who sports a fitting handlebar moustache, literally brings a vintage CCM bicycle to life by playing it like an instrument, suspended on a stand and connected to contact microphones.
The variety of sounds Hart can produce on a bicycle is, to say the least, a little mind-blowing. By using a combination of drum sticks, tuned bells, the spokes, frame, seat, and even the wheels themselves, he adds a unique and fitting element to Parry's songwriting.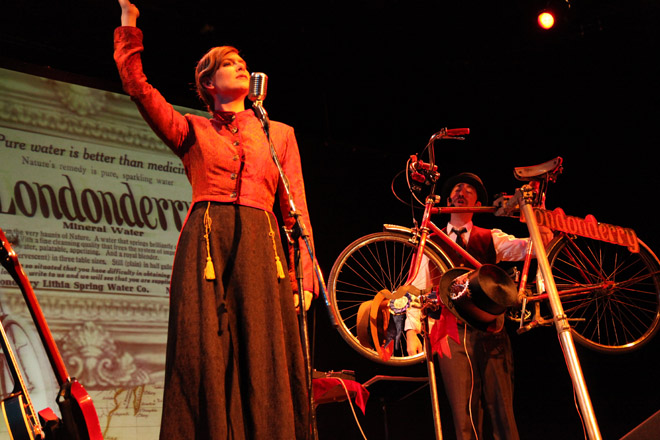 The bicycle as an instrument of social change
SPIN is inspired in part by the amazing true story of Annie Londonderry, the first woman to ride around the world on a bicycle in 1894. Not only was 23 year old Annie Londonderry (not her real last name, Londonderry Lithia was a mineral water manufacturer who sponsored her ride) unusual in that she accepted this unusual challenge, leaving her three kids and husband behind in Boston, but what I found striking (and ingenious) was that she scheduled press events everywhere she went. She sold advertising space all over her clothes and her bike - what a hustler!
This is just one of the examples that Evalyn Parry uses to illustrate how important the bicycle became to women in the late nineteenth century; for the first time ever women had a quick, easy, and most importantly an independent method of getting around.
The bicycle did more than just give ladies a way to get around, however: it also changed the way that we dressed. Using Annie Londonderry as an example of this sartorial shift, Parry paints a hilarious scene of Londonderry riding into a city and blowing people's minds with her masculine attire and her penchant for not giving a damn about it, thank you very much.
"Taking your life into your own hands"
One of the recurring themes throughout the play is the idea that the rider is connected to the bicycle, and that it allows them the freedom to go where they want, whenever they want, on their own terms. Parry weaves the idea of using your heart to move yourself around on your bike, and the idea that the bicycle and all it represents is connected to you as you ride around, beautifully.
"Taking your life into your own hands" also has a double meaning, referring to the suffragette movement and women's rights. As Parry points out throughout the play women's rights are the result of women "taking their lives into their own hands" and not allowing it to be dictated by men, and that the bicycle was one of the first ways in which women were able to start asserting their own independence in stodgy Victorian society.
Two-wheeled words/to wield words
To be honest, when I agreed to see the play I didn't quite know what I was signing up for, but I certainly didn't expect a cabaret-style, spoken-word/musical history lesson on women's rights featuring a bicycle as a backup instrument.
More importantly, however, SPIN made me appreciate what it means to be able to put on my pants and hop on my bike to go do whatever I please. As a woman who gets to enjoy a lifestyle which is a direct result of the hard work of so many women before me, it felt good to have the opportunity to develop a deeper appreciation for something that I already love so much (cycling).
In fact, I was so impressed by the play that it made me want to pull Barbara our, slap some giant winter tires on her, and ride that girl all around town. And in the middle of a frigid Winnipeg winter, that's saying something.
SPIN runs at the Prairie Theatre Exchange until January 31st. Grab your tickets here.
---