IMPORTANT BLOG ANNOUNCEMENT
So no school tonight and I promise there's a blog update in it for you and some photos and other goodies, but first I need to ask you...
HAVE YOU VOTED FOR SASS YET?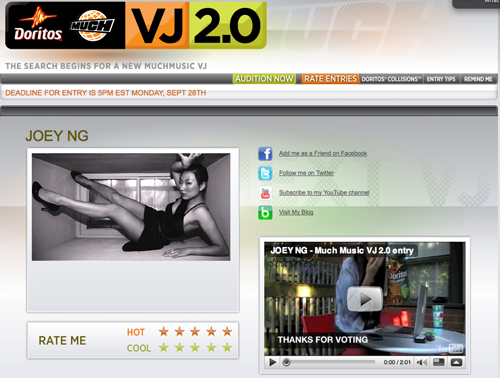 Yr fav media darling from TO is in the runnings for MuchMusic VJ so go help her out and
cast your votes
!
You can re-vote as many times as your little fingers can click "refresh", so go and vote 5 stars in each category, and while you're at it, swing by her
blog, Twitter, FaceBook
and
MySpace
if you still use it and get to know the new face of MuchMusic.
You know she's going to wildly more entertaining than any of those
other
nominees, and, really, don't you want to see Leah Scott get phased out by someone that doesn't make you want to punch babies?
So, again, make sure to cast as many votes as you can
here
so MuchMusic can be something worth watching again.