This post went in a weird direction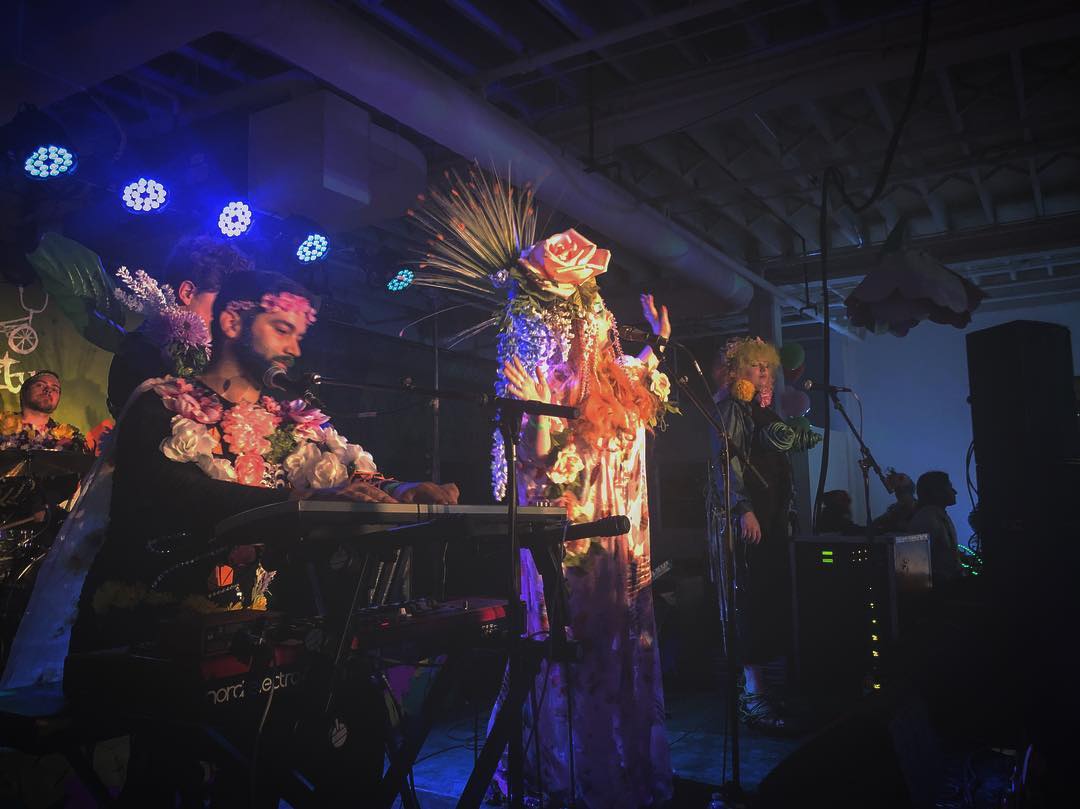 On Saturday we went to Mega Flora, the annual fundraiser for Art City
which if you aren't from Winnipeg is a really very cool nonprofit that makes a very positive and important impact on our community in a big way
(it's also the coolest-looking building for miles so check it out)
it was in The Exchange District in this old warehouse decorated to the nines with flowers and leaves and grass and so much crepe paper. There were food trucks outside and craft beer and cocktails inside. There was a photo booth. There were amazing bands and Begonia wore a giant flower on her head. There was a huge craft table to keep all the drunk people busy. Everyone dressed up in their most flowery outfits and it was just fucking magical

and like a lot of events happening in my city lately I was blown away at how much my city

turned.
it.
out.
which is still a weird feeling tbh.
Because longtime readers of this blog will remember that back in my late teens and early 20's I was pretty insufferable about wanting to move the hell out of Winnipeg
to Toronto, preferably
and would recite the same tired old refrain that I'd been hearing from basically every adult around me my entire life:
"Winnipeg is a dump and the best thing you can do is move away and never come back."
Seriously. People say that about the place they live
and where they continue to live, which is just that more confusing because why would you live somewhere you hate
especially if you're a Gen X or a Boomer and you say stuff like that. Seriously. Why do you still live here, then? Go away already and let us "lazy" Millennials re-open Portage and Main, revamp our public transit, and install some goddamn protected bike lanes on Portage Avenue
and keep starting small businesses and volunteering for nonprofits and throwing omg so much time and money into a fundraiser for a nonprofit that most of us have probably never used just because we see the value that nonprofits like Art City bring to our communities.
Because clearly we're not stopping anytime soon.
... omg guys I think I just figured out what's making Winnipeg a hip place to be:
Millennials.
Most of our coolest local shops and startups are owned by: Millennials.
The majority of the innovation in our tech sector is being built by: Millennials.
Most of the hottest events and fundraisers are hosted by: Millennials.
The coolest local festivals are being started by: Millennials.
You get my point. Winnipeg is becoming sosososo great, and it's largely because of the Millennials who live here.
I mean, of course all the work isn't 100% Millennial-driven. I know lots of Gen X and Boomer-types who do a great job of helping our city become something amazing, and props to them.
But it's kinda crazy to live in a city that seems to be undergoing some sort of cultural renaissance and to be a part of the generation that's driving that positive change in a really meaningful way.
It's almost as if a generation of us grew up being told that the place we lived sucked, and by extension if we chose to stay there instead of moving away we also sucked, and instead we decided "fuck that" and decided to make the place we live not-suck instead.
Thinking emoji.
Now if only some of us young social democrats would run for political office and fix our damn provincial health care.
Not me, of course. As much as I love politics I also don't have that kind of chutzpah
but maybe you could?
---