I'm not okay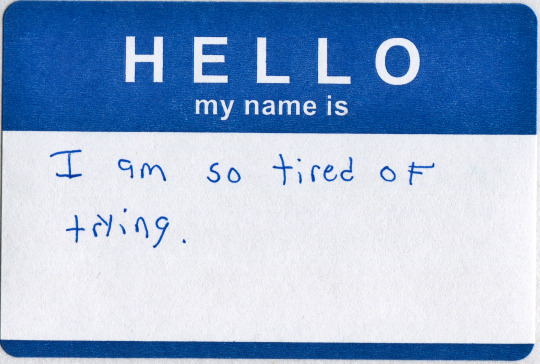 I've been staring at this blank screen like a page waiting to be filled and I have this pit in my stomach, round like an avocado pit and heavy-feeling, dragging me down into my chair and the floor and the ground. I wish the earth would swallow me whole.

People ask me to talk and I have nothing to say. My words are like ash in my mouth and they feel caked on my tongue. Nothing I say has value. Makes a difference. Matters.
I wake up in the morning and I want to go back to sleep so I don't have to feel this way and so I don't have to fake being happy and smile and be loud and enthusiastic and pretend like I don't have this
hole in me
that keeps growing larger no matter what I do.
It got real bad after VoteOpen but this lack of feeling has been there for a while, or maybe it never really went away and I was just covering it up. Like a hole in the floor that you put a piece of wood over, and then you put a really thick rug on the wood so when you walk over it you don't feel the emptiness underneath your feet. Or at least you pretend you don't.
I regret being involved with that campaign. The city ground me down and I saw an ugly side of it that I can't unsee and I don't know how to love the place that I used to love
so much
anymore because I don't feel connected to it. I've lost my sense of place, and with it a portion of my identity that was so, so important to me, and it feels like that hole is getting bigger and deeper and more complex and I'm losing myself in it more every day.
In the winter I needed to hustle so I could take time off so I barely had time to acknowledge it. I poured myself into my work and hauled ass and accomplished a lot but I did it so I could have an escape from my life and pretend like I was fine for a little while
and I felt fine in Thailand. Most of the time, anyway.
But then we came back and at first I tried to chalk it up to being incredibly jet-lagged, then being incredibly sick, then one thing and another thing and then another thing but the truth of the matter is that
I don't feel much of anything these days.
Just a hollow ashy feeling in-between bouts of profound sadness and red-hot anger. I yo-yo between being angry at everything and everyone, to feeling so sad I can barely get out of bed, and in-between I feel numb. I walk and I talk and I feel myself going through the motions of living my life but it's like watching a movie because the things that are happening have no meaning. They just happen. They don't matter.
Nothing matters.
John asked today me if I was excited about anything. Folk Fest. Rainbow Trout. Summer and gardening and riding our bikes. Our wedding. Any of the dozens of things going on in my life that I ought to be excited and happy about.
But I'm not. There's that hole in my chest where my feelings should be and it's deep and dark and grey and it feels like if I stare into it for too long I may lose myself and fall in and never come out. I could get lost in it like a series of hallways that lead nowhere but go on forever, empty and dark and endless.
If I were someone else I'd tell me to talk to someone. Anyone. That's what John tells me to do.

"See a therapist" he says "get some help."
So I'm getting help.
Tomorrow I'm seeing a new therapist and maybe that will make a difference but I'm nervous and scared, because the last time I saw a therapist it was to manage the emotional baggage I was carrying around from my relationship with my parents and for some reason I'm okay being a victim of abuse but I'm absolutely terrified of being depressed even though that must be what this is, right?
Is this what depression feels like?
Am I depressed?
I don't want to be. I want to be someone who overcame some shit and maybe still has some anxiety, but is pretty okay now and working on it but can do normal things like talk to their friends and partner about their feelings and get excited about getting married and the future and all the amazing, positive, special things in my life that should be making me feel anything but exactly how I feel right now.
But I'm not okay
and I need to do something about it before this hole in me eats me up and there's nothing left.
Wish me luck.
---