Tagged: Folk Fest
- by Alyson Shane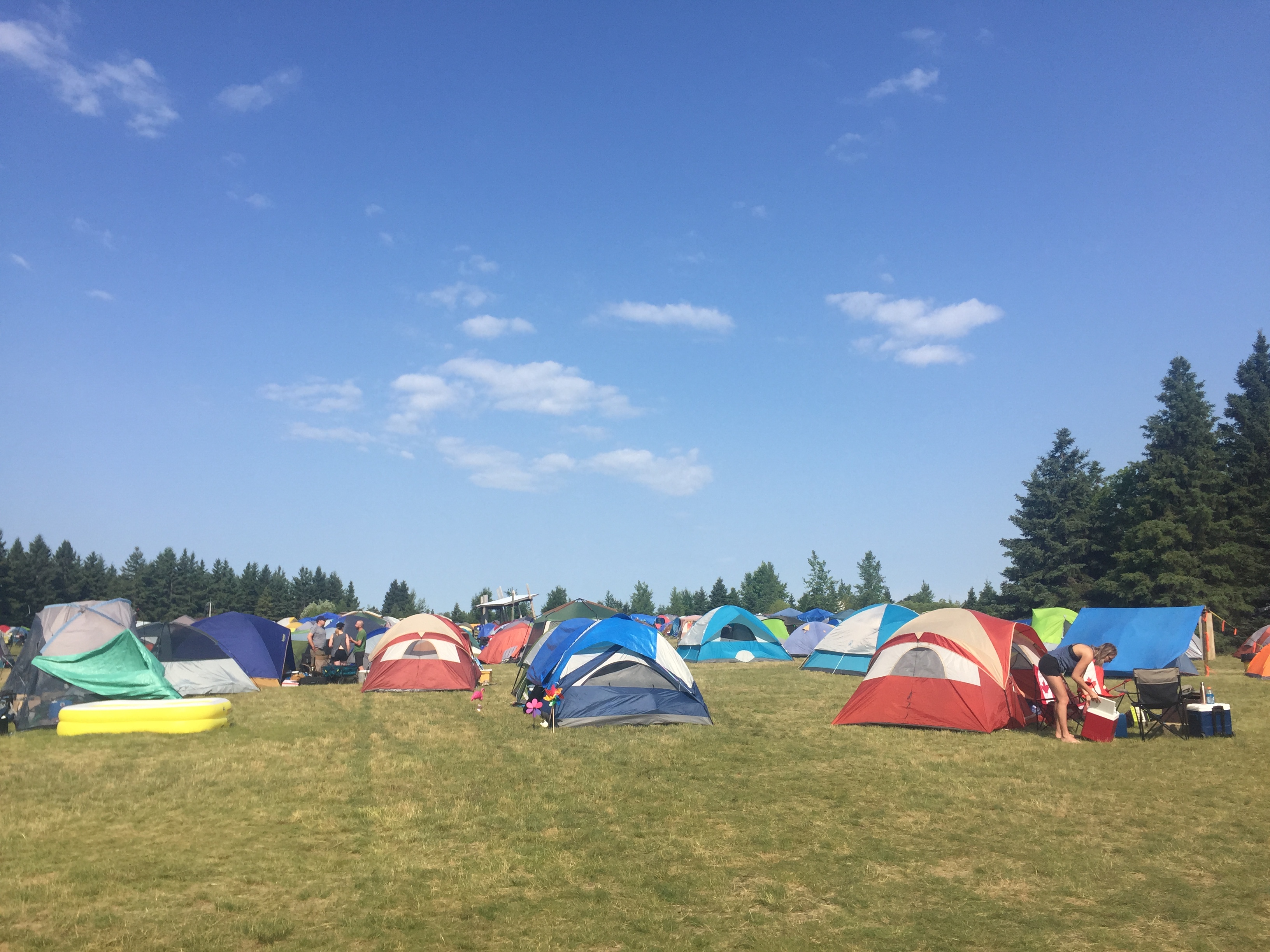 Most years we volunteer but 2017 has been so crazy and hectic already that we nixed the extra responsibility. Instead we just camped and roasted in the sun and took in as much music as you can reasonably cram into bright, hot days without giving yourself sunstroke.

We saw The Barenaked Ladies, City and Colour, Begonia, Charoltte Cardin and omg John K. Samson and The Winter Wheat.
John and I held hands and sang along to Pamphleteer and it was sort of perfect.
At the Big Blue stage at night there was lots of crowdsurfing. Kids climbing up into the crowd and floating around on top of others and I thought

That shit is so dangerous.
And I swear as I thought that some young dude who was crowdsurfing but was busy trying to selfie fell down and right onto his back in the crowd. Which made me realize that I'm old now because my first thought wasn't "oh no! Back to dancing" it was
He could have broken his neck!
When I was younger I just wanted to party all the time. I didn't care if I hurt myself. I was just in it to win it and the hangovers and bruises and fuzzy memories be damned. But now that I'm getting older all that stupid stuff I used to do that seemed like no big deal at the time suddenly seems so much more serious.
Like man you only live once so you gotta take care of yourself.
Which is why buddy taking a selfie while crowdsurfing freaked me out so bad. It reminded me of what a reckless dummy I used to be.
So I went and hung out in the beer garden with my friends.
Which is what adults do at festivals, anyway.
---
- by Alyson Shane


Hello everyone!
It's been a while, hasn't it? I've been away for the past week or so at the Winnipeg Folk Festival and I'm just getting back into the swing of things today.
For those of you non-festival-goers and non-Winnipeg locals, the Winnipeg Folk Festival is a massive four-day music festival which takes place in Birds Hill Park, one of our beautiful provincial parks. Some people just go for the day, but many of us (myself included) make the trek 45 minutes outside the city to be able to camp in their massive, sprawling campground.
Going to Folk Fest feels like coming home. Every year as I haul my camping gear up the trailhead and see the wide expanse of the festival, with it's multitude of tents, signs, posters, bikes, and decorations my heart starts to flutter and I feel so at peace.
It got me thinking about the beauty of temporary communities.
In university I read a fascinating paper called "In Search of How Societies Work: Tribes - The First and Forever Form" by David Ronfeldt that has always stuck with me. It was one of the first papers that I'd read which got me thinking about how, even in our digital age, we still network and search for "tribes" online that we can connect with: we find Facebook groups, join Twitter chats, and customize our subreddits to help us find communities that we can connect with and which give us a sense of belonging.

As a content marketer, communities are my game. I nerd out about community-building and people coming together to share positive stories and experiences online on a daily basis, and being able to apply that same sense of wonder and excitement to a going camping for a few days is a truly unique experience.
From the moment I set foot in the campground, I feel like I'm among friends; my own kind, who are all there to enjoy the summer, the music, the campground festivities and activities, and each other. We're all friendly, respectful and kind to one another; it's not uncommon to wander by a campsite and join in for a few songs, or make friends while waiting in line for some wood-fired pizza at the food vendors, or simply to wave and say 'hi' to someone whose costume makes you smile.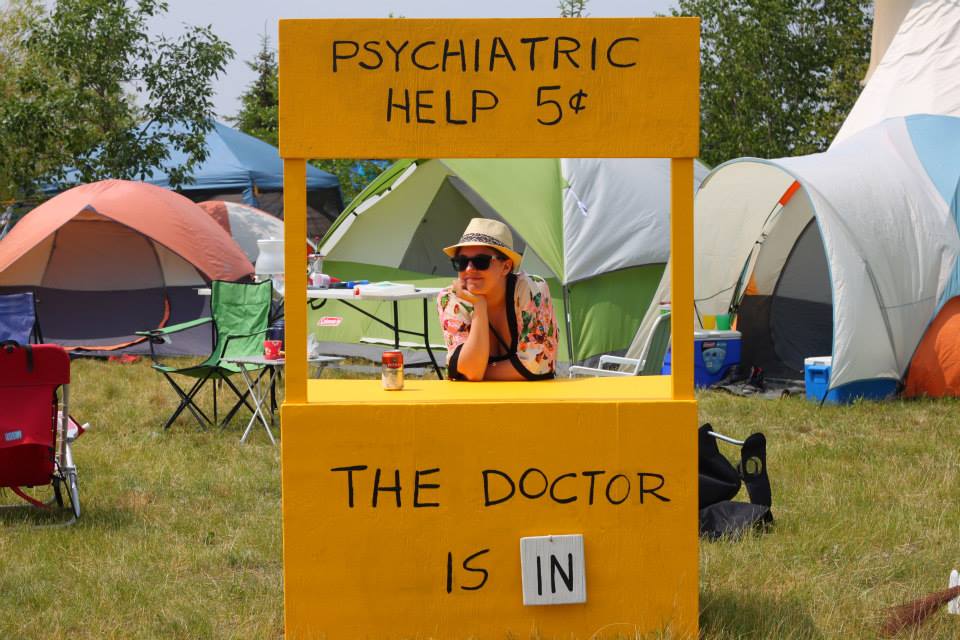 I'm part of another community at Folk Fest as well: the volunteer crew. Every year over 3,000 volunteers handle everything from security, to environmental clean-up, traffic, first aid, making and distributing food... you name it, there's likely a volunteer to handle it. We spend time training together, getting to know one another, and sharing in the long nights and blazing hot days of our shifts. We make friends with our crew members and the campers are so incredibly kind to us when we're on our shifts; it's not unusual for a random camper to shout out "you guys are doing a great job!" to us as we walk around the campground making sure everyone is having a safe and positive festival experience.
I've been to a handful of festivals in my lifetime but none of them have the same sense of shared respect and camaraderie that I feel at Folk Fest.
The anticipation of going makes me part of another community, as well: many people (myself included) see the festival as one of the highlights of our year, especially here in Winnipeg where our climate can be extremely harsh. Our winter temperatures can plummet to below -40 celsius and stay that way for weeks on end, and our summers can soar to over +40 celsius as well.
We truly experience the full range of seasons here, and many a long winter night is spent daydreaming about warm temperatures and, for many of us, the experience of camping at Folk Fest. I'm not kidding when I say that people live to go camping at this festival and take part in the temporary community that exists for a few short days each year: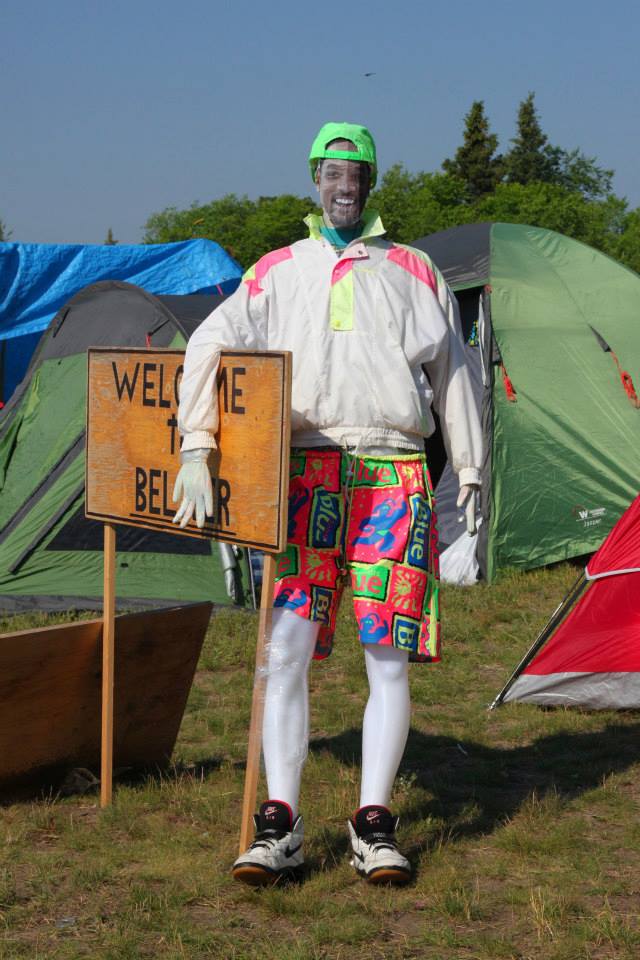 People haul in all sorts of weird stuff and set up the weirdest camps, from a temporary tattoo parlour which will create custom designs for you, a Jurassic Park themed camp with huge dinosaurs and torches, a Peanuts themed camp complete with Lucy's psychiatric help booth, to freakin' Bel-Air with a Fresh Prince mannequin, people really do go all-out in order to contribute to this magnificent, temporary community. The sheer amount of effort and love that they put into making the campground experience a unique and positive one for everybody is truly inspiring.
In addition to all the amazing communities that I get to help build and watch grow as part of my work, my day-to-day activities online, and this blog (thank you for reading, as always!), being able to be a part of the multitude of communities at Folk Fest always leaves me feeling so inspired and, of course, dreaming up ways that I can contribute next year!
Do you have any favourite communities (online or offline?) If so, I'd love to hear about them!
---